In the early years of my painting career, I spent my days in academic training and my nights and weekends working with visionary artists in Greenville, South Carolina, including William Thomas Thompson and the late Billie Messer (1978-2005). After hundreds of paintings and on the cusp of abstraction, I recognized a need for structure and informed discourse to balance my intuitive passion.
In 2003, I moved to Miami to work with Walter Darby Bannard (1934-2016) and became part of an underground community of serious abstract painters that included Jules Olitski (1922-2007), Kathleen Staples, and George Bethea. In 2010, several artists in our community of painters, a mixture of modern masters and mid-career artists, were recognized by the Center for Visual Communication as a new movement, The Miami School, a genuine extension and revitalization of the values championed by The New York School fifty years earlier. While working in Miami, I also developed a fascination with the alchemy of painting, how to make presence from mere material, how to evoke human spirit through form. This led to a rich exploration of collage. Brian Curtis, author of "Drawing from Observation," turned me on to the work of Irwin Kremen, an artist who had studied writing at Black Mountain College, but went on to make staggeringly sophisticated collages between the 1960's and 1990's. I visited Kremen's home to discuss collage in 2009 when I was a professor with the University of North Carolina and he was a professor emeritus with Duke University. My time spent studying collage was essential to my approach to painting and composition.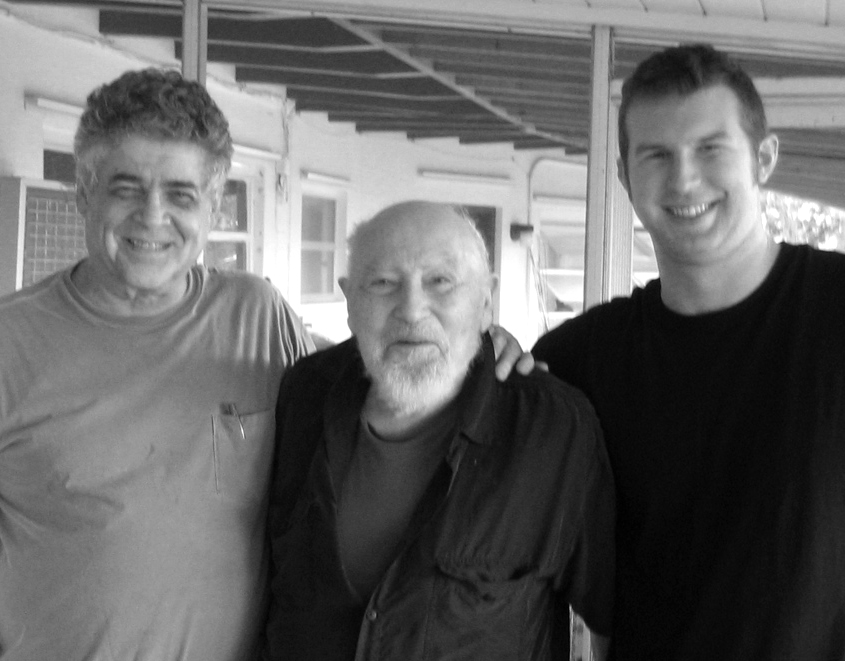 Darby Bannard, Jules Olitski, and Andy Gambrell at Olitski's studio in the Florida Keys (Photo courtesy of Lucas Blanco, 2006).
For thirteen years, I served several institutions as a professor of color theory, design, drawing, painting, and art history. Most recently, I was professor of painting for the Savannah College of Art and Design in Hong Kong. It was in the heart of the contemporary global art market in Asia (and in the absence of finding paintings that resonated with me) that I was overwhelmed with the urgency and cultural necessity of being in my studio, full-time, in South Carolina.
I left academia to establish my practice in the studio I built in West Pelzer and to put my experience to work in service of South Carolina's cultural community. My paintings are forged in the intersection of an authentic need for expression, rich and diverse professional experience, and my desire to share Southern Appalachian culture with a global audience. I hope you enjoy the fruits of my practice.
Andy Gambrell
Home